Back to all posts
Posted on
Return to In-Person Classes January 10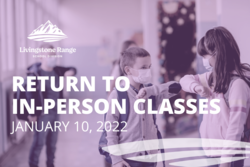 Dear Parents, Guardians, Students, and Staff, 
As announced yesterday by Education Minister Adriana LaGrange, Kindergarten to Grade 12 students in Alberta will be able to attend in-person classes on Monday, January 10, 2022. Our goal is to prioritize in-person learning; however, we anticipate that there may be staffing shortages at times which may require some classes, grades, or the school to transition online for a period of time depending on the availability of substitute staff. We thank you in advance for your patience and understanding.
We are excited and ready for students to return! We will continue to place the highest priority on student and staff safety with enhanced cleaning and disinfection of common areas and high-touch surfaces, and promoting and facilitating hand hygiene and respiratory etiquette.
Here are a few things to be aware of as we meet again together in-person:
Masks will continue to be mandatory for Gr 4-12 students and all staff. Medical grade masks will be distributed to all students and staff as we receive our supply from the provincial government. We understand that our school division may not get these masks until late next week. We strongly encourage everyone to wear the medical grade masks once they are available. All visitors to the school will continue to be required to wear masks.


Rapid Test Kits will be available for all students and staff for voluntary, at-home use to determine if they are positive for COVID-19. If you do not want your child to receive their government-issued test kits, please contact your school. We understand that the supply of rapid test kits for our school division may not be delivered to our school division by the provincial government until late next week.


Continue to do the Alberta Health Daily Checklist each day to screen for COVID-19 and stay at home when sick with any symptoms. A new checklist is currently in development, and the Division will share this with our community once it has been released by the government. Your cooperation in this area is critical to ensure we are able to continue to offer in-person learning.


Notification of positive cases and contact tracing. AHS will now investigate cases in high-risk settings, but not in schools. Students and staff will be notified by AHS of their own test results, but AHS will not be doing contact tracing for close contacts. Details regarding AHS's different approach to school reporting will be forthcoming from the provincial government. As a result of this change, the LRSD COVID-19 Dashboard will be removed.


Diploma exams. January diploma examinations for senior high students are cancelled. No decisions have been made about the April and June diploma examinations. Provincial Achievement Tests (PATs), Part A, have been postponed to the week of January 20.
We are awaiting updated guidance documents from Alberta Education and will continue to update and communicate as information becomes available.
We understand the mental, emotional, physical, and academic impacts on our students, staff, and families of nearly two years of a global pandemic. The changes and disruptions we've faced have been tremendously challenging. As a school community of administrators, teachers, educational assistants, administrative assistants, IT personnel, bus drivers, maintenance and custodial staff  working in partnership with parents, I feel confident that we can continue this school year strong, doing our very best for "Every student, every day".
Sincerely,
Darryl Seguin, Superintendent of Schools