Back to all posts
Posted on
Changes to COVID-19 Restrictions in Schools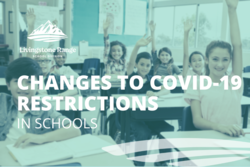 As announced February 8, 2022 by Premier Jason Kenney, changes to COVID-19 restrictions and masking requirements in schools will come into effect on Monday, February 14. You can read Education Minister Adriana LaGrange's letter to school authorities here. 
Beginning Monday, masks will not be required for Kindergarten to Grade 12 students in schools or on buses. Masks will continue to be mandatory for staff and adult visitors in the school and on buses. Families may choose to have students continue to wear masks as they feel comfortable.
Effective immediately, spectator capacity restrictions have eased but all spectators must continue to wear masks, as required by provincial public health orders. To lessen the burden on adult supervisors at extracurricular and co-curricular events, we ask for cooperation by wearing masks at all times while at the event.
Students and staff should continue to monitor their health by using the Alberta Health Daily Checklist and staying home when showing any symptoms of COVID-19 or otherwise sick.
Livingstone Range School Division leadership has been in meetings with the Education Minister and Deputy Minister, and we anticipate changes coming to the provincial guidance for school documents. If and when additional changes are made, we will communicate promptly with stakeholders.
We thank our school community for your patience and moderation as we navigate these new changes. We ask for your ongoing cooperation so that we can continue to provide safe, welcoming, and engaging in-person learning for all students.