Back to all posts
Posted on
LRSD 2023-2025 School Year Calendars Now Available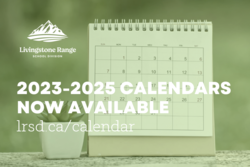 The Board of Trustees has approved the 2023-2024 and 2024-2025 school year calendars, which were developed using stakeholder input to understand what's important to families and staff.
Go to lrsd.ca/calendar and click on "Download Annual Calendar" to select a school year.
WMES Specific Schedules will be posted in the future.