Back to all posts
Posted on
K-12 Moving to At-Home Learning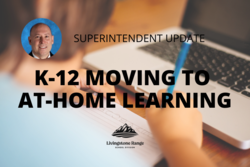 May 5, 2021
To: All Staff, Students, Parents/Guardians
From: Superintendent Darryl Seguin
Re: Provincial Announcement for Move to Scenario 3 (at-home learning) for all grades K-12 on Friday, May 7 
Last evening Premier Jason Kenney announced additional restrictions to stop the spike of COVID-19. As part of these stronger public health measures, all Kindergarten to Grade 12 schools will transition to Scenario 3 (at-home learning), effective Friday, May 7 with the plan to return to in-person instruction on Tuesday, May 25.
Our Division leadership team met last night to discuss these new measures and begin planning for the impacts of this change on our students, staff, and families. We want to reassure you that we are working closely with the provincial government and our schools as we adjust our education continuity plan accordingly.
Schools will use Friday, May 7 for staff to prepare for the transition to at-home learning. There will be no in-person classes for students that day. At-home learning will commence fully on Monday, May 10th. 
For Kindergarten to 12 students who are already learning at-home, classes will proceed on Friday as scheduled. 
We are meeting virtually with the Deputy Minister of Education today to get clarification about operations as we move forward. We will communicate again with our Division community within 24 hours.
We know this move to online learning may be difficult for families, students, and staff. It is our goal to maintain contact and support so that students feel connected. Thank you for your patience and understanding as we all do our best to keep our students learning and our province safe.
Darryl Seguin
Superintendent