Back to all posts
Posted on
Minister's Councils for Parents & Teachers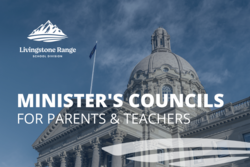 Parent and teacher perspectives are important to public education in Alberta. Would you like to get involved and help shape the future of education in our province? The Ministry of Education is now recruiting for the 2022/23 Minister's Parent Advisory Council and Minister's Teacher Advisory Council.
Alberta Education is looking for 40 parents/guardians and 40 teachers from across Alberta who will represent diverse priorities and a broad range of life experiences, knowledge and skills. The councils  - who will work with Education Minister Adriana LaGrange - will include Indigenous and francophone peoples and representatives from a variety of geographical locations, school authorities, cultural origins and socio-economic backgrounds. 
Interested individuals can apply until August 5, 2022. For more information and instructions on how parents and teachers can apply, please visit alberta.ca/ministers-parent-advisory-council and alberta.ca/ministers-teacher-advisory-council.