Back to all posts
Posted on
What's Important to Stakeholders for School Year Calendars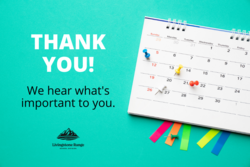 Thank you to our stakeholders for your feedback and participation in our School Year Calendars Thoughtexchange, which ran November 23-27, 2020. We had 264 participants sharing 283 thoughts, with 6,928 ratings. You can view the full report here. 
Senior Administration have read each thought and reviewed the star ratings to see themes and patterns.
"We hear from you that a 2-week Christmas break, a week-long break in February, and starting school after Labour Day are important to you," says Associate Superintendent Richard Feller. "You also said that wellness and family time are key considerations for developing a school year calendar."
We are grateful to our staff, students, parents, and community members for your participation and sharing what's important to you. With this feedback, Livingstone Range School Division will now work to develop the 2021-2022 school year calendar, to be approved by the Board of Trustees in February 2021.