Back to all posts
Posted on
Heather MacDonald Appointed Assistant Principal at West Meadow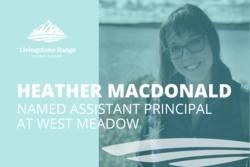 Livingstone Range School Division is pleased to announce that Heather MacDonald has been appointed Assistant Principal of West Meadow Elementary School in Claresholm beginning in the 2022-2023 school year. 
Heather holds a Bachelor of Education degree from the University of Alberta and has been teaching since 2009. She has taught in Livingstone Range School Division for the past four years. 
"Heather is an innovative and collaborative individual who will be a great benefit to the students, staff, and families of West Meadow Elementary School," says Richard Feller, Associate Superintendent of Human & Learning Services. "Her experience and passion for education make her an excellent candidate for this leadership position."
Currently a teacher at Stavely School, Heather is trained in the Balanced Literacy framework, has been a member of the LRSD Literacy Committee, has provided literacy-focused professional development sessions for staff, and uses the Balanced Literacy approach to enhance students' reading and writing skills.
"While I am sad to leave behind many great relationships at Stavely School," says Heather, "I'm excited for this opportunity to make new connections with staff, students, and families in Claresholm. I can't wait to learn and grow in my new role at West Meadow Elementary School."
West Meadow Elementary School Principal Sean Latta looks forward to Heather joining the school. "It is very clear that Heather brings a desire to be part of our West Meadow family," says Sean, "and brings a strong commitment to continuing a culture of trust, growth, and leadership for our school community. We are excited to have her join our team." 
Originally from Sherwood Park, Alberta, Heather lives with her husband Jason and their dog Axle in High River. In her spare time, she loves camping, swimming, and reading science fiction or fantasy novels. Heather also enjoys creative writing and has had several short stories published. She aspires to one day publish one of the two novels she has in progress. 
Congratulations to Heather on her new leadership role.